Used Wire Mesh Decks
We have Thousands of Used Wire Decks At Any One Time!
Wire Mesh decking is typically used to create shelf levels within the pallet rack system as well as providing added safety when stocking and picking your palletized products. If you have an application which requires you to store and pick products off the pallet rack shelf location then wire decks are the right choice. If you are operating out of a tall pallet rack system and need the added comfort of knowing that if your forklift operator doesn't quite get the pallet at your top beam level pushed in all the way before lowering their forks and backing out of the pallet bay, then the wire decks are a must. There are many different depths and widths of a pallet rack system and because of this wire mesh decks come in an array of sizes and capacities. They are constructed from heavy duty steel wire and steel channels. The channels of the wire decks sit in the steps of step beams and in some cases they will sit directly on the top of the beam . Wire decks prevent the accumulation of dust and debris within your pallet rack system. They also allow for water to be dispersed from your overhead sprinkler lines whereby allowing the water to travel throughout your rack system unlike other shelf systems that are made of plywood or particleboard.
DIFFERENT STYLES OF WIRE DECKS
---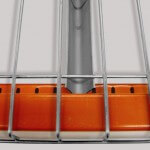 Waterfall Wire Mesh Decks- are the most popular wire deck on the market today.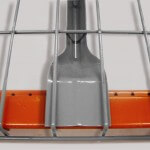 Universal Type- Have a flange at the end of the channel which enables the decks to fit securely on a step, box or structural beams.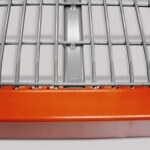 Lay-in or Flush Type -Wire Decks fit in the step of the beam and don't have any of the deck overlapping the face of the beam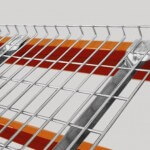 Reverse Waterfall Type- Wire Decks have a lip in the rear that prevents product from being pushed off the self when stocking and picking.
---
Below are just a few products in our inventory – Call us today for a complete inventory list or fill out a Fast Quote and tell us what you are looking for. We'll get back to you in 1 business day!
---
---