We have one of the largest inventories of Used Pallet Rack Beams in the nation. Teardrop pallet rack beams have become one of many industry standards and we have thousands in stock!
We stocks over 15,000 Used Pallet Rack Uprights available in many different sizes, styles, colors, & capacities. Uprights stored in our over 500,000 square feet of climate controlled warehouse.
Store bulky items like piping, lumber, drywall, and more. We carry hundreds of sections of "Like New" used cantilever rack systems of all sizes in our warehouse.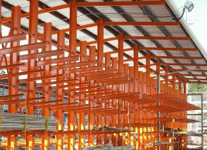 Cantilever Racks are used to store long & bulky items such as Lumber & Pipes. All Cantilever Rack Systems start with a Starter Bay or often called a Cantilever Starter Kit.
Wire Decks are used within a pallet rack system to allow small packages to be stored and/or for preventing pallets from falling between pallet rack beams when the pallets are being placed on and taken off the beam levels.
Wire mesh decks are great for hand stacking merchandise on pallet rack systems. They are also great for preventing palletized products from fall between beams. Tens of thousands in stock now!
Double storage capabilities by using a drive-in system. We offer thousands of used pallet positions of all sizes and configurations. The last-in first-out system enables you to store large quantities of bulk items while eliminating forklift travel aisles.
Increase bulk storage capacity in your warehouse while maintaining product selectivity. We have thousands of pallet positions of used pushback racks. this includes 2, 3, 4, 5 and 6 deep configurations.
---
We constantly purchase quality Used Pallet Racking and other related warehouse equipment throughout the nation.
This means we may have a liquidation going on now near your facility which could save you big money on freight costs.
---
Advantages
It is very important to know what you are getting when purchasing Used Warehouse Equipment. Our Reputation in the USED material handling equipment market it second to none. We have been around now for over 20 years and have tens of thousands of satisfied customers. Our salespeople will always make sure that you are fully aware of the exact condition of our used material.
Unbeatable Pricing: We are committed to providing our customers top quality Used & New material handling products at unbeatable prices. Our buying power on used packages enables us to pass a significant price savings on to you.
We encourage you to come see our equipment: This simply means that you don't have to worry about making a commitment on equipment that we don't own & control. In the Used equipment market it is very important to confirm that the dealer actually owns and controls the equipment you are considering. Whether it's a project we have going on in another state or the material has been shipped back to our corporate headquarters in Indianapolis, Indiana, we are always happy to show you our equipment firsthand. With now over 500,000 square feet under roof, we are always proud to show off our operation.
Freight Savings: We ship products directly from our liquidation sites across the county or from our headquarters in Indy. We are fortunate to be located in the "Crossroads of America". Our Indy distribution facility affords our clients big savings on freight when compared to our competition.
We do not broker equipment. When you purchase from UPR you are purchasing direct from our inventory and not someone elses. We really do carry the largest stock in the nation – With hundreds of thousands of beams, uprights and wire decks on hand for fast shipping.