Used Cantilever Racks
Hundreds of Bays of Used Cantilever Racks In-Stock of All Sizes
Cantilever Racking – At Rock Bottom Prices!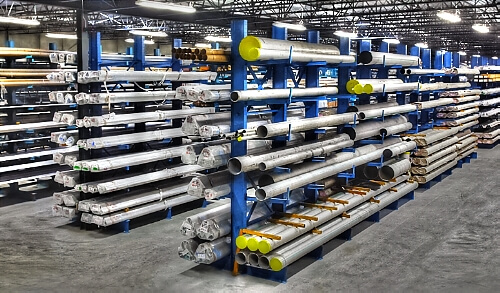 Used-Palletrack.com searches the country for used cantilever rack systems for our customers.These include uprights of all heights and arms of all capacities in like new condition. Cantilever racks are a freestanding storage system with horizontal load carrying arms that extend outward from a vertical upright column. These vertical uprights are also called towers by some people. The absence of a vertical support on the ends of the cantilever arms permits uninterrupted storage of long lengths of material. A cantilever rack system comes in all different configurations as well as capacities. Along with the uprights and arms you will also need bracing and bases to complete the system. The bracing can be set at many different lengths to allow for the flexibility of storing random length material. The bases are actually the components that are attached to the cantilever uprights/towers. These bases set on the floor and have anchor holes in them to allow them to be secured to the concrete. They too come in different sizes depending on the length of your product. A general rule of thumb is that the bases in your system will be the same length as the cantilever arms. If you need 48" long arms to store your material then you would need 48" long bases to attach to your cantilever uprights/towers. The bases also act a shelf level within the system for additional storage.
---
Below are just a few products in our inventory – Call us today for a complete inventory list or fill out a Fast Quote and tell us what you are looking for. We'll get back to you in 1 business day!
---
Save up to 50% off the Price of New!
Cantilever racks are simple structures with only two primary components. Uprights form the backbone of cantilever racks and include the supportive bases. The uprights of a cantilever rack can be single-sided or double-sided. Single-sided uprights can only have rack arms installed along one side, while double-sided uprights allow for storage on both sides of the pallet rack. It is also important to note that, while there are many different types of cantilever racking on the market, only the same brands of uprights and rack arms should be combined.The rack arms on a cantilever rack are typically adjustable along one-inch units for flexible storage. Rack arms can be straight and level, allowing for storage of stable options, or they can also be tapered to prevent items from rolling or sliding off of the rack arm. A lip can also be added to the end of cantilever rack arms, in order to hold items like pipes and tubing in place. When using cantilever rack arms, you should never install arms on both sides of a single-sided upright. This is highly unsafe and will result in an unstable structure.
To increase the stability of a cantilever rack system, sway braces can be installed to help support the uprights of the rack. Braces are not used to hold loads but, rather, they connect the uprights of a structure and improve the stability of a rack holding heavy items.