Used Conveyors and Accessories
THOUSANDS of Feet of Good Quality Used Conveyors and Accessories In-Stock!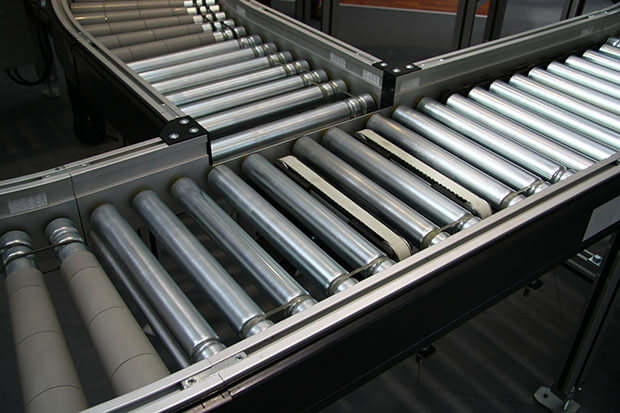 UPR carries a wide variety of used conveyors and accessories to choose from.  From gravity conveyors, flexible conveyors, or span-track, we have you covered.  We also carry H-Stands, lift gates, and other accessories you may need.  Don't buy new, when you can save big money on excellent conditioned used equipment.  We only purchase conveyor that has had very limited use to ensure that our customers have YEARS of top notch performance!  Our professional salespeople are standing by to assist you with your COMPLETE WAREHOUSE LAYOUT AND DESIGN! Let us do the legwork so that you can focus on your core business. From elaborate Sortation Conveyor Systems to basic runs of Gravity Conveyor we can help you determine what Conveyor system fits your specific operational needs. We provide turn key engineering and installation of all types of material handling equipment!
We have all of the accessories in stock as well as Stands, Lift Gates, Curves, Inclines, Declines, Merges, Metering belts and Electrical panels. Since we specialize in the purchase of complete systems, we typically have the majority of what you are looking for today and in stock.
We Stocks Hundreds of Warehouse Conveyor in all sizes and configurations. All our warehouse conveyors are kept in stock and stored indoors to ensure top performance. All conveyors and accessories listed on this page are available at the prices listed. Our wide selection of brands and sizes ensures that you can find the perfect conveyor to meet your needs.
Power Conveyors: Accumulation, Transportation
Belt Over Roller
Belt Driven Live Roller
Line-Shaft
Slider Bed
Trash Conveyor
Merges
Curves
Sortation Systems
Gravity Conveyors
Roller
Skatewheel
Flex Conveyor
---
Below are just a few products in our inventory – Call us today for a complete inventory list or fill out a Fast Quote and tell us what you are looking for. We'll get back to you in 1 business day!
---
Flex Conveyor gives you a New Angle on Efficiency!
Implement the most economical, adaptable, no-compromises gravity roller conveyor solution available. In stock and on sale now and at a price you can't afford to miss.
Built tough to handle applications running 24/7 all year. Ideally suited for truck loading and unloading, distribution centers, shipping and receiving. The optional impact section is recommended for high impact receiving applications.
Flex Conveyors comes with the following features standard:
300 lbs. conveyor capacity per linear ft.
28 3/4″ to 41 3/4″ adjustable conveyor height.
18″, 24″ and 30″ conveyor widths.
Available in any length to fit your applications.
Square Tubing Legs – We offer heavy duty square tubing legs for longer service life. (not shown)
1 1/2″ Side Plates – Aluminum alloy construction features a ribbed design for added durability. Assembled with bolts and lock nuts. (not shown)
Self Tracking: Cartons follow the twists and turns of the conveyor path without using engineered curves.
Structural Steel Support: Channel steel spans the entire conveyor width for unequaled strength.
Casters with Brakes: Colson 5″ x 1 1/2″ Swivel casters roll easily. Caster brakes lock both wheel and swivel simultaneously while the conveyor is in use.
Adjustable Height: Simply turn the locking knob to raise or lower the conveyor bed height. Standard adjustable range is from 28 3/4″ to 41 3/4″. 6 inch caster option adds 1 1/2″ to conveyor height to make adjustable range from 30 1/4″ to 43 1/4″.
Axle Centers: When expanded, the distance between axle centers is 5″. Optional 3″ and 4″ axle centers are available. Optional axle centers affect compacted conveyor length.
Extended Lengths: Flex 300 conveyors are available in any length. If your application requires a length not listed in the above chart, call us for assistance