Using Pushback Pallet Racks – Part I
Are you searching for a high-density storage option for your warehouse? With push back pallet racks, you can efficiently store a large amount of products using a gravitational system. Push back pallet racks are beneficial because they allow you to both store and access more products. This versatile pallet racking system sends pallets forward to the forklift, using gravity for greater efficiency. Continue reading to learn more about how push back pallet racking works and why it is a great option for your warehouse.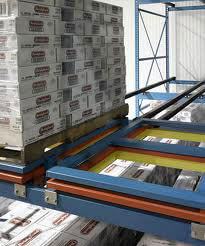 What is Push Back Pallet Racking?
You may be wondering how exactly push back pallet racking works. In this system, nested carts rest on a tracking system that can be attached to any standard pallet rack. This tracking system lies on a slight incline. You load the pallets into the front of the carts, and as you do this, each cart is pushed back into the pallet racking system. Using the force of gravity, each cart will roll forward when the one in front of it is emptied by the forklift. This means that the forklift does not have to reach into the racks to pick product.
We will continue our discussion next week with Part II of Using Push Back Pallet Racks.