Using Gravity Conveyors in Your Warehouse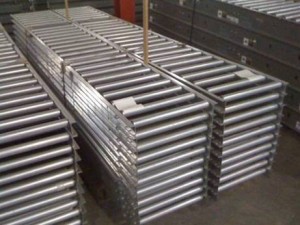 When it comes to your warehouse, there are many different ways you can improve efficiency. One of the best methods is using a gravity conveyor system. Gravity conveyors are not powered; rather, they rest on an incline and use gravity to push items along the track as they are picked. With gravity conveyors in your warehouse, you will be able to move product more quickly and increase worker productivity by eliminating one difficult aspect of the stocking and picking process. Learn more about the benefits of using gravity conveyors in your warehouse.
Efficiency & Productivity
The main benefit of using a gravity conveyor system is the increased efficiency of your warehouse and productivity of your workers. With a conveyor system, your products will move forward as they are picked rather than having to be pulled forward by an employee. This means the flow of products will move more quickly, and your workers will not have to waste unnecessary time on picking.
Accident Prevention
Gravity conveyors also maximize safety in your warehouse. Employees will not have to undergo the strenuous process of moving products forward after picking each one. You will also be able to prevent the potential for accidents involving equipment. Furthermore, gravity conveyors can take the place of other, more dangerous machinery, which again adds to workplace safety.
Simple Installation
In addition to being safe and efficient, gravity conveyors are very easy to install. They come in many different sizes to meet the needs of your products. In addition, they can fit inside your existing storage bays, meaning that you will not have to break your budget in order to purchase or install this system.
Durability & Stability
Gravity conveyor systems also add durability and stability to the transportation of products in your warehouse. If you stock products that are bulky, heavy, or difficult to handle, installing a gravity conveyor system will vastly increase the level of stability in moving these products. Gravity conveyors are also durable enough to handle products in a wide range of sizes, shapes, and weights.
Cost-Effective
Last but not least, gravity conveyor systems are very cost-effective. Because you can typically install them into your existing pallet racking system, you will not need to spend a large amount of money on your gravity conveyor system. Gravity conveyors will save you money in the long run through increased efficiency and productivity, leading to a positive ROI that will financially benefit your business overall.
Contact us today!