Universal Wire Mesh Decking
 are designed to fit on both step beam, box beams and structural steel beams.   In the case of a box or structural pallet rack beam there isn't any lip or ledge for the traditional wire decks U-channel supports to rest on.  The universal wire mesh deck solves this problem by using a similar U-Channel support that bends upward at the front and rear of the deck creating a flange type piece of steel that set on top of the box and structural beams.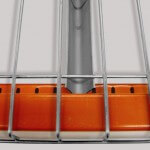 Waterfall Wire Mesh Decks- are the most popular wire deck on the market today.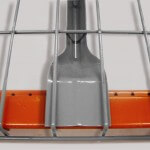 Universal Type- Have a flange at the end of the channel which enables the decks to fit securely on a step, box or structural beams.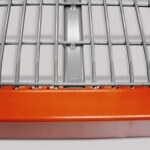 Lay-in or Flush Type -Wire Decks fit in the step of the beam and don't have any of the deck overlapping the face of the beam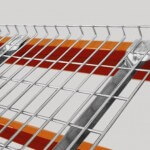 Reverse Waterfall Type- Wire Decks have a lip in the rear that prevents product from being pushed off the self when stocking and picking.