Double Waterfall Wire Mesh decks are the most popular type of wire deck on market today. The name comes from the fact that at the at both ends of the double waterfall deck the wire mesh actually waterfalls over the top of the shelf beams. This provides additional capacity while ensuring the wire deck stays in position since it is locked in (Front to Rear) by the waterfall potion of the deck itself. The waterfall feather also eliminates any snagging of products while placing them on and off the wire deck shelf within the pallet rack system. For additional support the double waterfall wire mesh deck is supported by a series of U-channels which the wire portion of the deck rest on. In this application, the U-Channels actually sit in the step of the step beam. The step of the step beam usually measures 1 5/8" deep from the top of the beam to the top of the step portion of the beam that the wire deck channels rest on.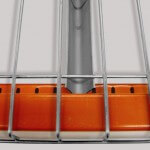 Waterfall Wire Mesh Decks- are the most popular wire deck on the market today.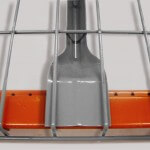 Universal Type- Have a flange at the end of the channel which enables the decks to fit securely on a step, box or structural beams.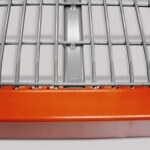 Lay-in or Flush Type -Wire Decks fit in the step of the beam and don't have any of the deck overlapping the face of the beam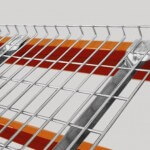 Reverse Waterfall Type- Wire Decks have a lip in the rear that prevents product from being pushed off the self when stocking and picking.