Wire mesh decking is used as an alternative to traditional pallet rack shelves. The use of wire mesh decking allows split case and open case inventory items to be stored in the pallet racking system. Wire mesh decking systems also distribute weight more evenly than pallet bars.
Wire mesh decking is also advantageous for use in warehouse settings because it can increase safety. The spaces in wire mesh decking allow light to flow through, creating better-lit warehouse spaces and less risk of injury for workers, who are then able to see more clearly. Wire mesh decking is also protective in the event of a fire because it allows water to pass through. Traditional wooden platforms only feed the fire and absorb water. In some areas, wire mesh decking is mandated by local fire codes whenever there is a pallet racking system in use.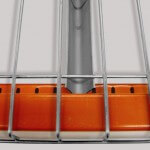 Waterfall Wire Mesh Decks- are the most popular wire deck on the market today.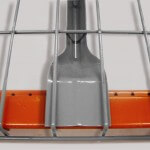 Universal Type- Have a flange at the end of the channel which enables the decks to fit securely on a step, box or structural beams.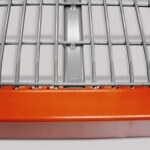 Lay-in or Flush Type -Wire Decks fit in the step of the beam and don't have any of the deck overlapping the face of the beam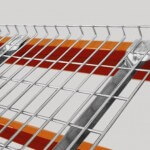 Reverse Waterfall Type- Wire Decks have a lip in the rear that prevents product from being pushed off the self when stocking and picking.